And yet a great deal has happened… We will give you a brief overview of the recent developments.
As described in our last post, we had requested a founding consultation with the SAB and finally received a positive reply. Now we can start working with our founder's nest in Dresden on our financing, sales and marketing concepts.
Further development of the CompactChart
Nevertheless, this still is a workshop blog so new developments regarding the CompactChart are next. For the fair Dresdener Weitsicht we built a completely new prototype of the CompactChart, clad in Plexiglas and weighing in at 7.315 kg. Thus, we have come a great deal closer to our goal of developing a mobile flipchart under 7 kg. The fair's visitors "looking into" our prototype weren't the only people who benefitted from seeing its insides. We noticed that, despite the magnetic and writable film being completely rolled up and stowed away, the box was still plenty empty. So next we'll take a look at how much we can reduce the next prototype's box and save some weight.
We are currently working on a variety of locking systems to optimize the frame behind the panel and have tested three designs so far. We tried magnets, screws, and hooks. A combination of magnets and hooks turned out to be the most promising and was sent to a training centre in Dresden for further testing. More on our Facebook page.
The search for a stable bag
The cold season is setting in and therefore about time to make sure the CompactChart is warm and cosy. We settled on a plain grey fabric and received the first bag last week, just in time to deliver a prototype to a tester. Many thanks to our colleagues from Bärenstein, who sowed the sample bag. Because mobility is one of the CompactChart's key features this bag has a carrying handle and small wheels in addition to compartments for the CompactChart, tripod, paper, and moderation materials. Thus, covering long distances on foot, for example to meet a customer after having arrived at a train station, is no longer an issue. To make the bag as versatile as possible, another large compartment was added to accommodate a laptop, timer, or other important paperwork. You want to take a look at the new CompactChart bag? Just click the Unboxing-Video on our FB page.
New rolling machine underway
But what about the previously mentioned writable magnetic film? The first film we used unfortunately soiled very quickly and was only moderately easy to clean. That's why we looked for and found a new supplier. We reproduced our composite material with his film but noticed that the plastic still forms small, undesirable wrinkles. That's why we decided to fit our self-constructed, manually operated rolling machine with an electric motor. A fellow student offered his support, we hope to have the rolling machine up and running again soon. We will also be testing new heating elements to more evenly heat the film prior to the moulding process. Of course, we must keep an eye on our resources, so the rolling machine's iron frame was salvaged from an inoperable garment press. This makes it perfectly suitable for its new purpose.
Workshop on 3D printing and construction
After graduating we no longer have access to the SolidWorks student license to model our components. We looked for alternatives and found some. Fortunately, our partner, SAXEED, currently offers an introductory course in Autodesk Fusion 360, which, as a StartUp, we may use for free. The training sessions are supplemented with an introduction to 3D printing technology at the Chemnitz University of Technology's Idea Workshop. We are looking forward to printing our own parts and testing them in action. By using this technology, we can quickly realise our ideas and try them out in next to no time.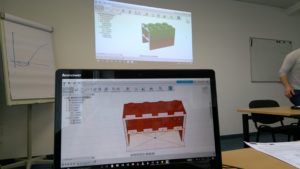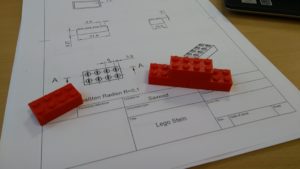 That was a lot of information and, sadly, we can not post a picture on every single topic. But you will certainly find some more on our FB page. No longer want to miss out? Leave a like.